完全にプライベートメモです。
 実験用に気に入ってる。IVOGO RTAなのですが、FASTTECHで買わなかったもので、レビューセクションに写真が上げられないので・・・
 このタンク、かなりいい加減(マーケットの不良在庫に正直)でタンクセクションはOD=23mm、ID=20+mm、THICK=1.3mm(恐らく1.5から痩せてる)、H=10.5mm、アッパーセクションのキャップは1サイズ下OD=22mmのグラスがハマるという、ありきたりな(破損ガラスと不良在庫がいっぱいある。特に23はKayfun、Orchird、Fishboneで捌けない。で、23ガラスは切断後に断面処理がしてある。)
で、画像アップの理由は、タンクのメンテと外し方がどこにもなかったからです。
Sorry guys, above was just a small explanation section for Japanese vapors.
Here, I love to share how this one hold glass tank.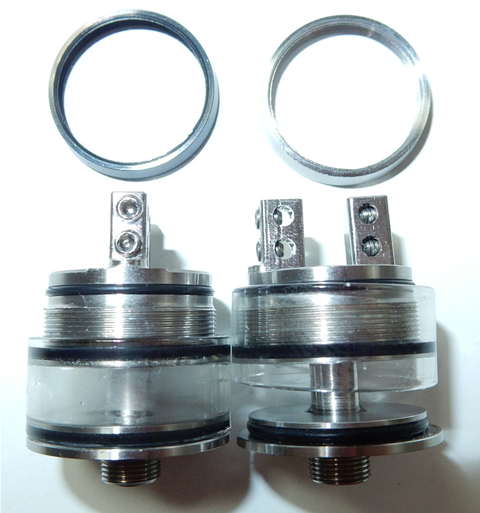 You see, there is no pressure factor involved with this glass section.
Velocity notch is ther also in cap side. As far as I stay 510 connection, this bottom section looks perfect for us, users. This is nightmare parts for would be branders. As this bring vaping as bicycle industry not cars. And I do believe vape is bicycle not car. Taste per person affect too heavy. Fundamental parts are too easy.
Tank section glass is
OD=23mm
ID=20+mm
THICK=1.3mm
H=10.5mm
And it looks like re-use of Kayfun / Orchid which I saw as Fishbone / Kennedy .
Tank section is just half cut (double labor) of
SKU

3597100
Billow V2 Nano tank. They are desparate to utilize and finish dead stock of these 23mm.
License is BSD v3 (you don't have to mention nor I refuse link, please check by yourself and copy. I need to stay this page low in traffic.) on this posting.
Serial of Right is 0231 and Left is 0160, they can't mix all parts (cutting position of velocity notch is inconsistant. It seems like they just match and ship.)